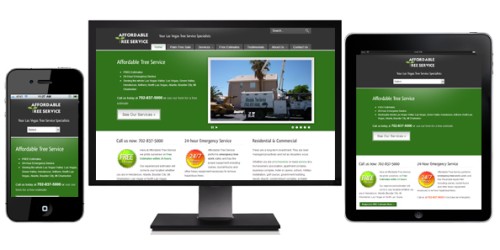 Custom WordPress Website – Design: Perfect
AddOns/Extras: Google AdWords, bing ads, bing Business, Favicon, Google Analytics, XML Sitemap, Google Places/Maps, YouTube Channel, Custom Forms, Performance Optimization, Search Engine Optimization, Conversion Optimization, Resonsive Design (Retrofitted)
Update (February 2013)
When we first developed the website for Affordable Tree Service in the Spring of 2011, the terms "Responsive Design" or "Mobile First" didn't yet exist. Almost 2 years later – and while the website is still one of the best-performing ones we ever created – after reviewing the growing percentage of users who access the website on their mobile devices (a 5% increase over the past 5 months!), it was time to refocus, to adapt the design and to make the website responsive. The code has been retrofitted and now all mobile users (whether on iPad, iPhone or Android) can enjoy the newly optimized experience.
Testimonial:
Affordable Tree Service is rapidly expanding throughout the Las Vegas Valley and I felt we were losing many customers to the simply tacky websites provided by previous developers. We needed a website tailored to our specific trade and we needed a company that would listen to exactly what I need and expect. We found what we needed in inlineVision.
I have had numerous compliments on my new website. It is visually pleasing, informative and most importantly it is a website that looks professional and shows customers that we are a professional company that can meet their needs.

Eric Callahan, Affordable Tree Service
Search

Recent Client Projects

Get Social & Follow Us!