Seamless Twitter Background and Header Template – FREE
Pimp your Twitter profile with this template that lets you easily create a Twitter Background, Header and Profile Picture that have one continuous background. There are also various layers included in the Photoshop file that allow you to simulate what your Profile will look like without having to upload the graphics and change the design of your account first. Really, who's got time for that? You can work smarter, and not harder, by creating multiple mockups quickly with this template.
My latest design works with larger monitors than my previous template. So far, the resolution the template is designed for (1920×1080) looks good on my 22″ monitor and my business partner's HD resolution (1920×1200) monitor.
Photoshop File Dimensions: 4596 x 2357
So why so freaking huge, you ask? It all starts with Twitter's recommended size for the header background image. Although it displays at a relatively small 520×260 on my desktop, Twitter allows for a maximum size of 1252×626 pixels. The goal is to have a Header image that is the maximum size and a background image that, when resized to 1905 x 977, still lines up correctly with the now smaller Header graphic.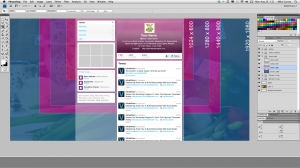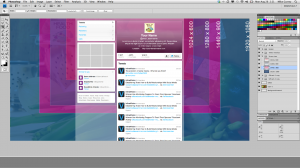 Download the Template
The ZIP file will include a full size JPG file for those not using Photoshop.
Create Your Images for Upload to Twitter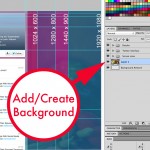 1. Create Your Design
Pull in photos, logos and graphics to create the look you want. The Photoshop file is organized via the layers and groups. You can show and hide each one to help you visualize the final result.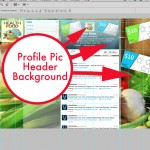 2. Create The Individual Graphic Files
Background: Resize the background image down from 4596 x 2357 to 1905 x 977 pixels. When saving your Twitter background don't forget to hide the layers you don't want showing like the profile photo or black/white overlay.
Header: When you have the design the way you like it (and saved), crop the file down to the the guides. You should be left with an image size of 1252 x 626. This file is the correct size for Twitter and can be uploaded without resizing. Again, smarter not harder!
Profile Photo: Crop the file to the guides for the profile photo. Make sure to hide the white frame/border. You will be left with a profile photo that is 175 x 175. Upload to Twitter as is.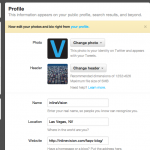 3. Upload Your Files to Twitter
Your Profile photo and Header are uploaded together on the Profile tab under Settings. The Background and black/white overlay are managed on the Design tab.
Template Features & Layer Groups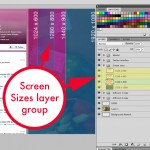 Screen Sizes
Shows the visible areas of the background for three smaller screen sizes. The area visible for small screens (1024×600) is minimal. A 13″ screen (1280×800) is what I will usually design for. I don't usually have my windows maximized so I rarely look at anyone's Twitter profile and see beyond the 1440×900 dimensions (my 15″ laptop).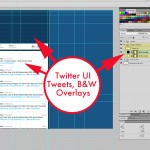 Twitter Interface
These layers help to simulate the finished product. There is a layer the Tweets in the feed and for the boxes on the left; Lists, Followers, Following, Photos and Videos and People to follow. I have also included two layers for the black and white overlays Twitter applies to your Profile.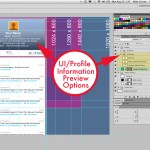 Header
The recommended size for Twitter Headers is 1252×626. You can use the text layers to add your Account Name, User Name, Bio, Location and URL. There is also a layer in there to simulate the gradient overlay Twitter adds to your header (whether you like it or not).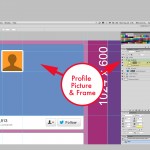 Profile Pic
One layer to simulate the white frame that surrounds your Twitter Profile photo and one placeholder graphic, add your profile photo or logo and crop. You should hide these layers when saving your Header for upload. Your header image will be rendered at different sizes depending on device and including your profile photo in the Header image can create issues. Happy Designing!
Download The Twitter Template
Simply enter your email address and the download link will be sent directly to your Inbox (we can only send you the download link if you enter a valid email address).
NOTE: We're currently having issues sending emails to *.icloud.com and *.me.com addresses (or pretty much any MAC-related domain). Please use an alternate email address until we get this figured out.
Search

Latest Articles

Jul 17, 2021

Apr 15, 2020

Mar 6, 2020

More From Our Blog