LinkedIn

Give visitors to your website a way to easily share your content with their professional contacts. LinkedIn is one of the largest social networks there is and is geared toward business and allows us to connect with clients, coworkers and partners. Having a LinkedIn share button on your site opens up another avenue for your content to be shared and discovered by a whole other network.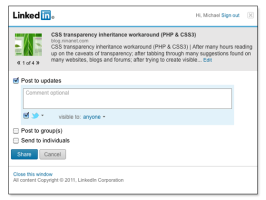 The LinkedIn share button encourages users to share your content by giving them a quick and easy way to share it. By simply clicking the button visitors can post an update containing a link to your content with an image, the title of your post or page and a brief description.
Visitors also have the ability to share the update not only with their contacts but with the many professional groups they may belong to as well as sending the update to their Twitter account if they have the two linked together.
Search

Extras, Add-Ons & Packages