Twitter

There are many ways to integrate Twitter into your website, the most popular being the "Tweet this" button. You can also give visitors to your website a view of your Twitter feed right inside of your site allowing people to see your latest Tweets as well as the ability to "follow" you with out having to leave your site first.
Tweet Button


The Tweet Button encourages users to share your content by giving them a quick and easy way to share. By simply clicking the button visitors share can post a Tweet containing a link to your content.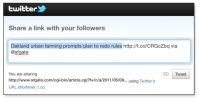 When someone clicks on the button the message is pre-populated with a shortened link to the page or post on your site. Users will then have the ability to customize the Tweet's content before posting it to their account.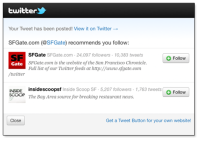 After posting the message, visitors are given the option to follow you without ever leaving your site.
Search

Extras, Add-Ons & Packages