New Image Size for Facebook Event Images/Banners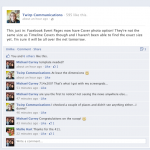 Thanks to Anita Hovey of Twirp Communications for this news!
New Photoshop Template
It's a simple banner so why create another template?
For the same reasons I created the first template… because Facebook only shows a small portion of the event image on your Facebook page in the thumbnail preview for Events, as well as a slightly different part of the image on the Events listings page.
The image size or dimensions for Facebook's new Event banners is (according to my calculations) 714px by 200px(see below). This new template gives you guides so that you will know which part of your banner is displayed.
You can make the decision whether designing your banner so it also looks good on your page is worth the trouble.
Facebook Event Thumbnails
For now at least is seems like there is a little bug. There is no thumbnail on event listing pages, just a calendar graphic. Thumbnails do get generated when the event is shared and when you view the event listings on mobile.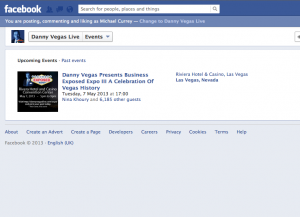 Update 2/26: Thumbnails are now being displayed properly on Event pages.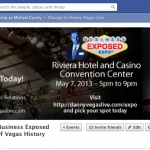 Update 2/23: I am now seeing the banner size being 714×264, causing my 714×200 banner image to be stretched out and cropped. The App preview is not affected or the Event thumbnails. I will keep my eye on this and make adjustments if necessary.
Update 2/28: With three days of consistent results, I am now feeling safe to say the template is working! The last six events I've created have all gone well, but I will stay vigilant and update this post and the template as needed.
Feel free to leave a comment if you experience any difficulties or inconsistencies.
Note: We ask for your email so that we can notify you of updates to the template, just in case something changes or the information we have is incorrect. You will not be added to a mailing list.
Download v2.2 of The Template
Simply enter your email address and the download link will be sent directly to your Inbox (we can only send you the download link if you enter a valid email address).
Like the template? Why not buy me a cup of coffee?
Search

Quick Find

Most Recent Articles

Follow Us on Facebook