Binzer Perlen – Luxury Vacation Rentals with Ocean View – Binz, Germany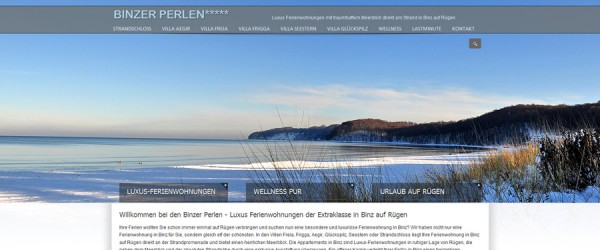 Custom WordPress Website According to Photoshop Design & Layout
AddOns/Extras: Custom Widgets, Favicon, Google Analytics, XML Sitemap, SEO Package, Custom Shortcodes, Custom Forms, Performance Optimization, German Translation, Custom Sliders
About (German):
Luxus Ferienwohnungen mit traumhaftem Meerblick direkt am Strand in Binz auf Rügen
Willkommen bei den Binzer Perlen – Luxus Ferienwohnungen der Extraklasse in Binz auf Rügen.
Ihre Ferien wollten Sie schon immer einmal auf Rügen verbringen und suchen nun eine besondere und luxuriöse Ferienwohnung in Binz? Wir haben nicht nur eine Ferienwohnung in Binz für Sie, sondern gleich elf der schönsten.
About (English):
Luxury Beachfront Vacation Rentals with Ocean View – in Binz on Rügen
Welcome to the Binzer Pearls – Five-Star Luxury Apartments in Binz
You always wanted to spend your vacation on Rügen and are looking for a special and luxurious apartment in Binz? We not only have one apartment in Binz, but eleven of the most beautiful ones for you to choose from.
Customization:
This project required the implementation of custom (nivo) sliders and an integrated uploading feature on every page to enable the client to individually upload and sort images for the sliders and the galleries on the published pages.
At site launch, the site already contained over 2,500 images for the individual apartments.