3 "Must-Have Tech Business Services" Nobody Needs
By using technology buzzwords and by promising never-before-seen (alleged) business value, semi-transparent companies (and people) are constantly able to trick unsuspecting business owners into buying their products or services.
Of course it's every business owner's responsibility to check the validity of any offer or the beneficial nature of purchasing a certain product or service – but let's face it: Most small business owners today neither have the time nor the technological know-how to weed out the good ones from the bad ones – all they want is something (anything?) that will get them more business. And this is what these shady sales people are counting on when pitching their services.
Here are my top 3 currently "popular" alleged Must-Have Tech Services for Your Business we and our clients hear constantly (and that need to go away).
Mobile/Text/SMS Advertising
Probably the biggest annoyance ever invented.
It's intrusive, obnoxious, and similar to toenail fungus, it can take forever to get rid of.
Besides the fact that not everybody (surprise!) has unlimited text messaging and has to pay a fee for every single one of those irritating and mostly cryptic little pieces of garbage.
There are way better methods to keep in touch with your customers and keep them informed about your offers and other news.
In my opinion (and experience), text advertising is a sure way to annoy and lose your customers for good – the exact opposite of what that awesome text message advertising sales person promised you.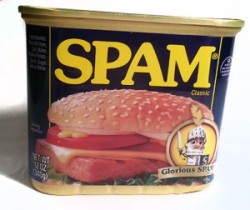 BTW: According to the FCC, "…texts and commercial email messages may be sent to your mobile phone if you previously agreed to receive them. For texts that are commercial, your consent must be in writing (for example, in an email or letter);"
Read more here: http://www.fcc.gov/guides/spam-unwanted-text-messages-and-email
A Mobile Website
Find a decent web developer and get a responsive website. Seriously.
First, because it was in June of 2012 (!) when Google officially announced they recommend responsive design (http://googlewebmastercentral.blogspot.com/2012/06/recommendations-for-building-smartphone.html).
Second, because that "mobile" website now needs to be maintained separately.
And because you most likely don't own the domain (yourmobilesite.somemobilewebsitecompany.com), and because 99% of these "implementations" are butt-ugly and of course because that site will (hopefully) never gain any real SEO traction. Because if it did, you would be competing with your actual, real website.
Responsive web design is the way to go; and a skilled developer can even create "mobile business cards" for you (which almost made it as a separate point in my list) including Social Media links, clickable address and phone number, and make it accessible via a pretty QR code and a short URL.
Your Own App
What exactly can users do on your website? Schedule an appointment? Request a quote? Become a member? Buy a product? Subscribe to your news feed?
These are all great and valid reasons to have a website; and if you have enough traffic and conversions to meet your sales (or other) goals – all you have to do is keep it going and to keep it up-to-date, fulfill the incoming orders, follow up with the incoming leads, keep your users happy – whatever the case may be.
Now – what do you want your own "app" to do?
Give users the opportunity to browse your website? Yeah, your website already does that. Users should be able to submit a request or inquiry? Yeah, they can already do that on your website. Buy a product? Yes, they can do that, too. Sign up for your newsletter? Put a newsletter sign-up form on your website.
Maybe we should clarify at this point what an "app" really is: an app is nothing else than a piece of custom software.
And the main reason for developing custom software is to create a specific solution for a specific problem. Software engineers (and I'm one of them) generally do not develop software to create more problems.
Let me ask the question again: What do you want your own custom software to do? What specific problem do you want it to solve?
Being able to say "We have our own app" cannot be reason enough to spend money on something that has no real purpose (which specific problem does it solve?), nobody really needs (since there was no problem to begin with) and therefore nobody will ever use.
And most of the apps unsuspecting businesses owners get tricked into buying aren't even real custom software.
They are little more than downloadable and installable versions of aforementioned mobile websites, quickly built via freely available app building kits, make little or no use of the actual native functionality available on mobile device although they ask for the most ridiculous permissions during the installation process.
Permission Requirements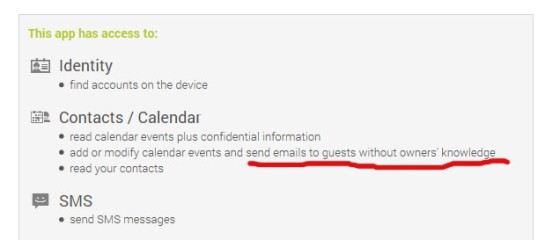 Click on the image to see all required permissions
Click on the images to see the full description(s)
PS: Neither one of the two businesses pictured above is operating a salon.
Idea: Ask the "developer" to integrate a real custom feature, and you will see what I mean.
So unless you have a real reason (and the time and the funds) to have a piece of custom software developed that will provide value to your users because of its particular functionality, your money is better spent promoting your business and your actual services (and your website).
The Last Word
It's all about making informed decisions. Gather some intel first before you sign on the dotted line or hand over your credit card.
– Get at least a second opinion. You don't buy the first car on the lot either, do you?
– Think about how else you could spend the money these things cost. Advertising? Social Media? Upgrades to or optimization of your existing presence?
– Ask for referrals and actually talk to them. Ask about their experiences and their ROI.
Search

Latest Articles

Jul 17, 2021

Apr 15, 2020

Mar 6, 2020

More From Our Blog