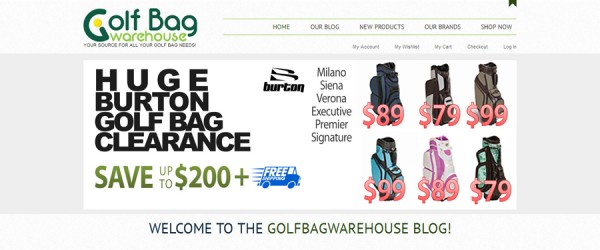 Custom Responsive Blog with Magento Integration for GolfBagWarehouse.com (Las Vegas)
For the Blog for Blog.GolfBagWarehouse.com we created a design very similar to golfbagwarehouse.com's online store layout to ensure visitors that they are (still) within the same trusted environment.
We used the Magento WordPress Integration Plugin to connect WordPress to Magento and modified it to extend the plugin's functionality to accommodate our requirements.
• Custom Responsive WordPress Design & Magento Integration
• Magento Products & Shopping Cart Integration
• Custom Page Templates
• OpenGraph (facebook) Integration
• Custom Widgets
• SEO Package
• Performance Optimization

About GolfBagWarehouse.com:
GolfBagWarehouse.com is your premier source for quality golf bags, golf travel bags and related golf equipment – all from name brand manufacturers including Bag Boy, Bennington, Burton, Callaway, Datrek, Nike, Ogio, SKB, TaylorMade and more.