Bad Links Or Link Buying Can Really Cost You
I generally don't pay any attention to the countless "SEO proposals", link building, link exchange and link buying "opportunities" that have been trying to clutter my inbox for more than a decade. Unfortunately, other people do.
Google Webmaster Guidelines:
What Everybody Should Know By Now


Google has been taking action against Link Spam and Link Schemes for a very long time (see "Information about buying and selling links that pass PageRank" from December 1, 2007!).
Google's Webmaster Guidelines' list of (potential) violations is long, it includes anything from cloaking, loading your page with (irrelevant) keywords, and – not only since the most recent high number of attacks on WordPress Sites – watching out for messages in Webmaster Tools that your site might have been hacked (yes, it can, should and will get you penalized).
The Whole List of Violations Can be Found here.
In a "reminder" ("A reminder about selling links that pass PageRank"), published on February 22, 2013, Google states on their Webmaster Central Blog:
We do take this issue very seriously, so we recommend you avoid selling (and buying) links that pass PageRank in order to prevent loss of trust, lower PageRank in the Google Toolbar, lower rankings, or in an extreme case, removal from Google's search results.
Links, Links, My Kingdom For More Links!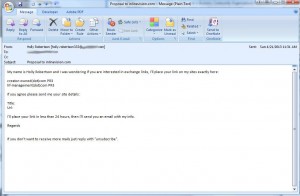 Just recently, during a discovery meeting, a potential client asked me: "How many links are you going to get us? I don't see that anywhere on your services. I need to know how many links you're gonna get for us. You do that, right?"
Unfortunately, it seems that businesses nowadays are so desperate, they will literally buy anything those "companies" sell.
"Link Building" proposals and other flat out ridiculous claims by those "Outsourcing SEO companies" just fan the fire we have to fight when Google penalizes the site.
A real "Link Buying" facebook Ad
As if those emails and all the other promises were not enough, I see this ad on facebook a couple of days ago:


(I reported them for violating Google's Webmaster Guidlelines.)
The Uphill Battle (Against Ignorance)
Not too many clients will ever see a Webmaster Notice like this (since the "Outsourced SEO company" most likely won't let them):
And if clients see it, certain SEO companies blatantly give out this "advice":
"How to Respond to the Unnatural Links Notice in Google Webmaster Tools: In most cases you should do nothing."
Well, if you follow their "advice", the following might happen to you:
Your page has been blocked from our index because it does not meet the quality standards necessary to assign accurate PageRank. We cannot comment on the individual reasons your page was removed. However, certain actions such as cloaking, writing text in such a way that it can be seen by search engines but not by users, or setting up pages/links with the sole purpose of fooling search engines may result in permanent removal from our index. Please read our Webmaster Guidelines for more information.

Once you have modified your site so that it meets our guidelines, you can submit your site for reconsideration.
You can find the Violations of the Webmaster Guidelines message here.
Instead, do what Google's Matt Cutts (Matt Cutts on Twitter) tells you to do in this video:
Google's CleanUp Crew at Work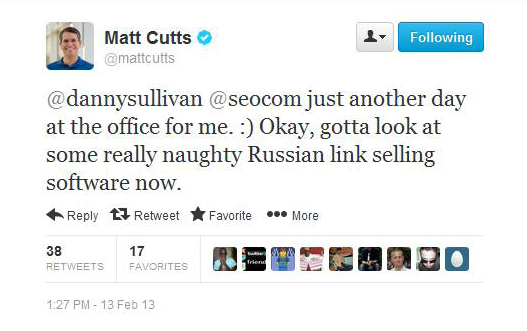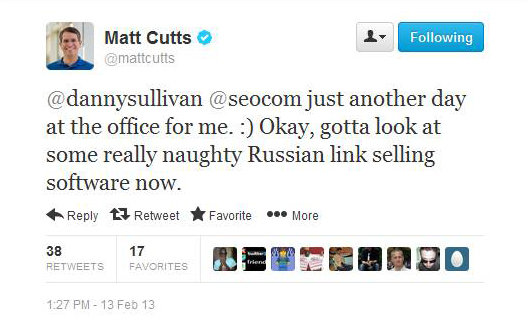 What To Do If You Are Affected
The most important piece of advice: Take action!
Sitting still and not doing anything (or ignoring the warnings) is not going to make it any better. You have to be proactive.
First, take a look at your site's Webmaster Tools to see who links to you (and when those links were discovered).
You will then have to go through the list, check the incoming links, and try to get these links removed by contacting the offending sites' webmasters. Sounds like a lot of work? You bet it is.
Websites like Remove'em: The Bad Backlink Removal Tool and Service let you check how many "bad" backlinks or sites might be linking to your site and (for a fee) offer a service to remove them.
We ran a test on the aforementioned potential client's existing website, an existing client's website and our own website on Remove'em:




In this video Google's Matt Cutts explains what the "Disavow Links" Tools is and when you should use it:
Takeaways
– Don't think you're smarter than Google. Others have tried. And failed.
– If you do receive a warning message from Google, you have to take it seriously and you have to make an earnest effort to clean up your site (and your act).
– You always get what you pay for. Now you have to spend more time and more money to get the mess cleaned up.
Did you get penalized by Google or do you need to clean up backlinks?
Talk to us – we are happy to help you with all of your website issues!
Click Here to Talk To Us
Search

Latest Articles

Jul 17, 2021

Apr 15, 2020

Mar 6, 2020

More From Our Blog