Traffic Increases, Goals & Conversion Rates: One Year in Analytics Data
Your website is an investment like any other business investment: it's supposed to generate revenue.
And just like with any other business investment, you – the investor – have to be on top of what's going on if you want to see a return of your investment.
Your Website IS Your Business
You wouldn't want your store's windows to be dirty, the shelves messy or allow the employees to look and behave inappropriately, right?
Instead, you want your windows clean, your shelves stocked neatly and you expect your employees to look and act the part.
Why is it though that business owners do not apply the same level of organization, diligence and care to their websites?
With the internet now being such an intricate part of our daily lives, your website's visitors' level of sophistication also rises: Users know exactly what they want, they expect it to serve their immediate need and they know how to get it.
They also know that your competition is only one click away: If they don't get what they want from your website, they can get it somewhere else in less than 10 seconds.
Set The Right Goals For Your Website
Every business is unique, therefore every website and the goals you want to achieve with it have to be unique as well.
Even if you have an e-commerce website where the primary goal is the purchase of a product, there might be secondary goals that deserve the same amount of care, e.g. "Sign Up For Our Newsletter" or "Call Us For Personalization Options or Bulk Pricing".
Real Clients, Real Results
To see the individual screenshots, please click on the pink bars labeled "Click To See…".
Affordable Tree Service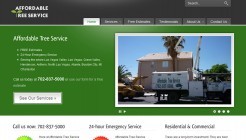 Website: http://lvtreeservice.com
Traffic Sources: Organic, Paid Search (Google AdWords, bing ads)
Responsive Website Since: January 2013
Primary Goal: Request an estimate
Secondary Goal: Brand Awareness & Brand Saturation
Click to See the Affordable Tree Service Mini-Case-Study
Las Vegas Woman Magazine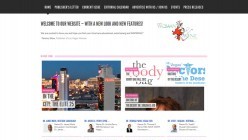 Website: http://vwomanmagezine.com
Traffic Sources: Organic, Social Media
Responsive Website Since: August 2012
Primary Goal: Attract New Advertisers
Secondary Goal: Engage Readers & Build loyal Following
Click to See Las Vegas Woman's Mini-Case-Study
Takeaway
We always do our best to monitor and tweak our clients' websites' performance in the background – if allowed by the client's budget (yes, this is a factor).
But the ultimate key to better Search Engine Visibility, more traffic and more conversions however is not some black-hat, mysterious technique, or over-stuffing your pages with oh-so important keywords to the point where everything stops making sense — instead it's based on a handful of key principles:
– Produce quality content people actually are interested in
– Create and maintain a credible presentation
– Define, segment and specifically target your particular audience/demographic
– Ensure consistent branding and messaging across all channels
– Proper usage of coding standards and available technologies
– Provide clear Calls-To-Action
– Hire a Proofreader
– Continuously try to enhance the users' experience
– Test, rinse, repeat.
– Use canned content and stock images
– Pay a maximum of $500 for your website
– Say: "I cannot afford research or marketing"
– Make every page or Social Media Channel look different
– Use Flash, tables and other outdated techniques
– Leave the users unclear about the purpose of the page
– Think nobody cares about grammar
– Hide or make important things hard to find or use
– Never look at it again
How Did inlineVision Do Over The Past 12 Months?
We practice what we preach.
We are constantly testing, changing and adding things on our website. But most importantly, we produce content. And judging from the numbers, people seem to like it. But see for yourself… (Please click on the green bar below).
Click to See Some inlineVision Numbers
Have an under-performing website? Interested in learning more about Conversion Optimization?
We are happy to help you with all of your website issues – and we provide solutions!
Click Here to Talk To Us
Search

Latest Articles

Jul 17, 2021

Apr 15, 2020

Mar 6, 2020

More From Our Blog