Beware of the Experts: Buy Twitter Followers – Update

It's been more than 1 year since I wrote about certain 'services" selling you Twitter Followers, Facebook Likes, YouTube Views, and God-knows-what-else.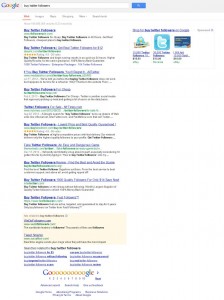 13 months later and much to my sursprise – these "services" still exist, and people (and companies?) apparently are still buying the snake oil they're selling.
But as Social Media is becoming a more intricate part of our daily lives, it has also become a lot easier to detect fakes, and it's not limited to tech-savvy nerds (anymore). Thanks to tools like Fake Follower Check by Statuspeople everyone can do it.
Fake Follower Check is a website that allows you to check the percentage of fake followers on anyone's Twitter handle; and needless to say, the results are exactly what I expected them to be.
Fake Follower Check Result
This is a check on one of the companies selling Twitter Followers: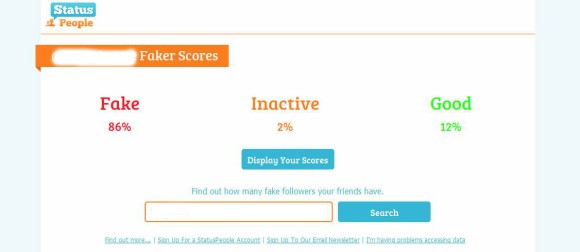 Nevertheless, these companies meanwhile continue to sell unsuspecting and gullible users their fake products; and – as before – include "Testimonials" from "Happy Customers". The problem (for them) is: they are including real-time stats by TwitterCounter — and these statistics show the rapid decline in Followers (presumably not too long after the initial purchase).
Check out These Stats!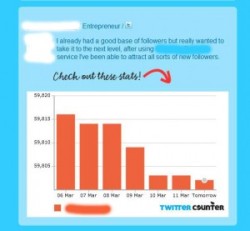 Maybe not necessarily stats I would use… Should've taken screenshots instead, maybe.
What The User Doesn't Know…
There are no shortcuts. You need to get that into your head. Once and for all.
While all these promises by all these companies might appear to be "working" for a very limited amount of time, using any of them is guaranteed to hurt you, your business and your brand in the long run.
By using any of these quick fixes, you are blatantly assuming all your users, followers, fans and customers are too stupid to ever know the difference.
Social Media needs to be nurtured, accounts need to be monitored and you need to build your authority over time:
– by engaging your users,
– by posting relevant and compelling content,
– by replying to questions and concerns.
This does and can not happen over night.
P.S.: inlineVision Fake Checker Results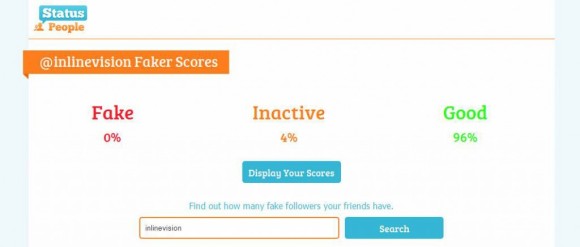 * Names, Twitter Handles, Profile Images and other identifiers have been redacted to protect the innocent guilty.
Need an Account Checkup or Help with Your Social Media?
We are happy to help with your Social Media needs! Just let us know what you need!
Click Here to Talk To Us
Search

Latest Articles

Jul 17, 2021

Apr 15, 2020

Mar 6, 2020

More From Our Blog