You are attending CES in Las Vegas? Great, we love to have you.
To make your adventure a little better, here are some tips & tricks from a long-time attendee AND Las Vegas local.
Getting there:
This highly depends on where in Las Vegas (at this point we assume you're already in town) your starting point is.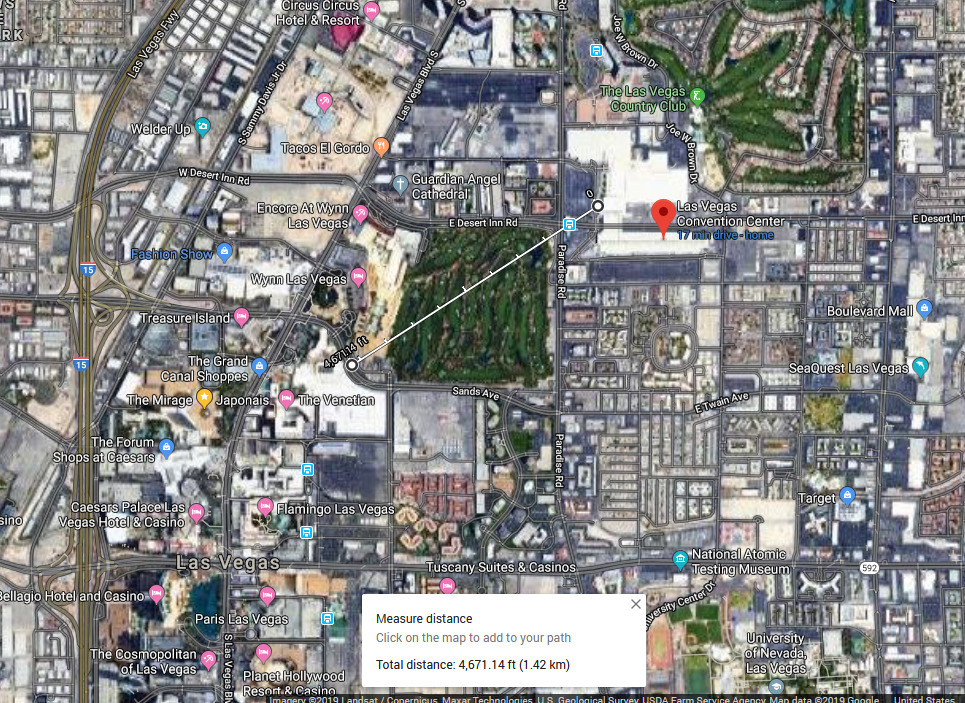 Needless to say, the undisputed best point to start is the Westgate Las Vegas Resort & Casino. Also probably the most unlikely one – that is, unless you're one of the few (2,900+) who actually do have a room there during CES.
Not only is the Westgate (formerly known as Las Vegas Hilton, formerly known as The International) internally "almost connected" to North Hall, part of CES is actually taking place there (in 2020 that is: Westgate Paradise Center Booth #s300-1299, Westgate Pavilion Booth #s1300-2099 and Westgate Ballroom Booth #s2100-2999).
2nd best: Renaissance Las Vegas Hotel, just South of South Hall and right in front of the UBER/lyft designated pickup lot (subject to change).
Please note that The Renaissance is non-gaming and non-smoking.
3rd: any Marriott across the street (on Paradise Road):
If you plan on staying at the Convention Center, everything is – somewhat – within walking distance.
We say somewhat because the Las Vegas Convention Center is massive. Huge. Humongous.
Before the planned expansion (2021?) the current (Dec 2019) total space is 1,940,631 sq ft (180,290.5 m2) (source: Wikipedia).
From anywhere South of the Convention Center to MGM:
Probably the Las Vegas Monorail. I used to love taking the Monorail to CES, until one year they had turned it into a complete clusterf*ck; with hundreds of people waiting on platforms in the freezing cold, ushers that didn't know what they were doing, the ticketing booths (not the self-service kiosks) closed, nobody answering their phones, etc.
I have not taken the Monorail since (2011); so your mileage may vary. Happy to hear about good experiences though!
From anywhere further South than the MGM and North of the Convention Center:
UBER or lyft. At least until your each the critical points which are approx. 1 mile radius from ANY participating location. It can easily take you 30 minutes or more to go the last mile. No matter the direction or time of day.
If it's not pouring rain (which only happened once during the past 15 years of CES), jump out and walk the rest of the distance. Be careful where you jump out though, you might get yelled at.
The same rule applies for going to the Sands Expo Convention Center.
If you're staying The Venetian or The Palazzo, there is a connector between all (3) of them; so you never have to leave the bowels of Las Vegas.
While parking is currently free at both The Venetian and The Palazzo, please note that this might not apply during CES. Call ahead to make sure.
I'd recommend to not even bring your rental car near the Convention Center (unless you're staying in one of the aforementioned hotels and have an assigned space during CES). There is no parking. And if there is, it'll take you a very long time to get there, and it'll cost you. (Which might sound strange to some of you who are used to paying for parking. We in Las Vegas still aren't.)
And then you're still have to hike a mile or so to get to your desired convention location (for comparison purposes: the parking garage of the Westgate is approx 1 mile away from the front entrance of South Hall).
Remember, nothing is close by in Las Vegas. Everything looks close, because everything is so big. And no, you cannot simply "walk around" one of these properties.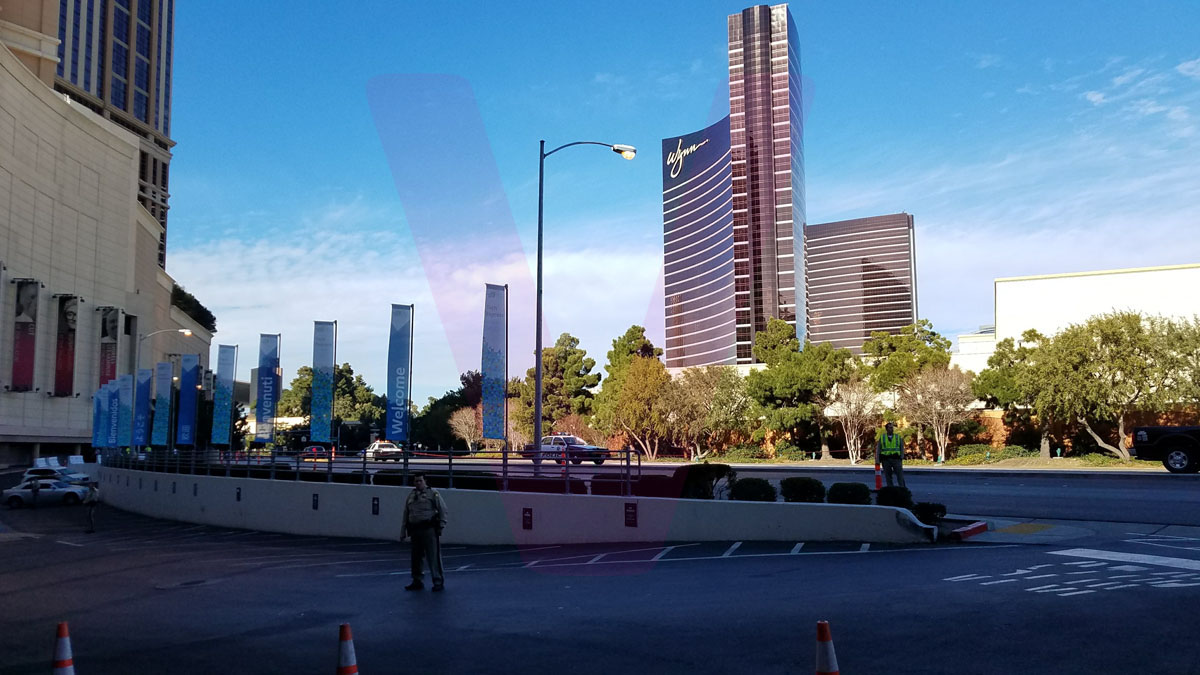 Getting around:
There are shuttles between the Sands Convention Center and the Las Vegas Convention Center (and all other locations); but be prepared for quite a long wait. There's always a line to get on any of the shuttles, and they, too, will be stuck in traffic around all participating locations.
In case you feel like getting in a workout – the distance between the Sands and South Hall is a little more than a mile.
There is a golf cart service between South Hall and Central Hall (highly recommended).
Food/Drink:
The Convention Center has a food court (main Concourse – between North Hall and Central Hall), a bunch of pop-up concession stands on the main plaza (outside Central Hall) and plenty of concession booths located inside the individual halls. You can get anything from smoothies, coffee, pizza, BBQ, Indian cuisine, etc.
Seating is extremely limited (or close to non-existing, especially inside the halls), and the lines can get fairly long. Pack patience and an extra water bottle (drinking fountains available) and join the other already sitting on the floor during their dining experience.
To my knowledge, there is only one (real) bar at the Convention Center. It's located near the main entrance, to the North (I'll try to remember to take a picture and jot down its name).
Don't feel like sitting on the floor of the Convention Center during your meal?
Both the Westgate (may we suggest the Superbook Bar*) and The Renaissance (we suggest Envy Steakhouse) have excellent dining & adult beverage options.
* The Superbook Bar has built-in USB-chargers
Needless to say that Las Vegas offers some of the best dining in the world. Whatever your tastebuds may crave, Vegas most definitely has a solution for you. Reservations at your favorite place during CES are highly recommended.
General Dos & Donts
Do:
– DO wear comfortable shoes. We're not kidding. Your stepcounter will be impressed.
– DO bring a water bottle and refill at a drinking fountain. Water bottles sell for $5+ at CES. It's a desert after all.
– DO bring a sweater or light jacket. While all the electronics inside can make it almost unbearably hot, once you step outside, you will be freezing (especially after dark).
– DO bring a power bank. Charging options are few, and usually full.
– DO plan ahead. Check the floorplan(s) and make a list.
Dont:
– DON'T bring your luggage. Seriously, leave those rolling bags at your hotel room.
– DON'T try to see everything. That's simply impossible (see above).
– DON'T simply stop dead in your tracks when you see something fantastic. Pull over (to the right) to take your picture(s). Even the carpeting inside the halls resembles highway lanes (hint). Info: We drive on the right side.
Maps and other useful info (for CES 2020):
https://www.vegasmeansbusiness.com/listing/las-vegas-convention-center/31137/
https://cdn.ces.tech/ces/media/pdfs/ces-2020-svm_nov_20.pdf
Search

Latest Articles

Jul 17, 2021

Apr 15, 2020

Mar 6, 2020

More From Our Blog