Desert Hills Dental (Dr. Deborha Staten)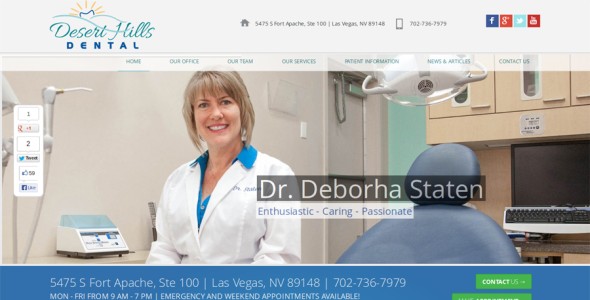 Custom Responsive Website for Desert Hills Dental / Dr. Deborha Staten, DMD (Las Vegas)
The purpose of the redesign of deserthllsdentallv.com was to create a modern, responsive website to showcase Dr. Staten's new practice and her skills as a dentist.
We combined two sites into one and gave them a fresh look and a consistent design; providing Dr. Staten with a valuable asset to establish and grow her brand-new dental office in Las Vegas.
We also chose to prominently display all associated Social Media icons, making it easy for website visitors to connect socially with Dr. Staten and her team.
• Responsive WordPress Design
• Custom Post Types, Custom Forms, Custom Widgets, Custom Shortcodes
• SEO Package & Full Social Media Integration
• Performance Optimization
• Testimonials Slider
• Google Analytics
• Conversion Goals Setup
• XML Sitemap

The "original" version of the website was not responsive, therefore providing a poor experience for mobile users.
The original developers had created two different sites with completely different designs, which made it very hard for visitors to associate the sites with each other as there was no consistency, and the differences in design and color scheme made visitors very uneasy.
About Desert Hills Dental:
Dr. Staten provides all of the services you expect from a general dentist, including checkups, fillings, crowns, and root canals. She also offers cosmetic dentistry, custom implants, and dentures.
Dr. Deborha Staten provides full-service dentistry to meet the needs of your entire family. From young children who demand an abundance of patience to seniors who appreciate sensitivity and a sincere, caring provider and everyone in between, Dr. Staten aims to brighten your smile and your day.