The Importance of Professional Product Images for Your E-Commerce Store

Image courtesy of Goldschmiede Stoll, Binz, by TEXTAG Internet & Werbeagentur
When it comes to creating a successful e-commerce store, many things need to be taken into consideration during the planning phase, and we have written about them on a number of occasions already (See Requirements for E-Commerce and Even More E-Commerce Questions & Answers).
Once all these prerequisites are in place (or are at least in the process of being established), it's time to fill your store with all your exciting products. This is the easy part, right?
Wrong.
Interestingly enough, this is where we often run into the next big – and unexpected – issue: Acquiring the product information.
You Want Me To Buy… What?
Besides the general presentation and overall design of your store, the individual product's description and other details that will be part of your product detail page (whether visible to the user or not) like weight, dimensions or color options — the single most important part of any product page is the product image. It's what the user sees first and sometimes it's the last thing he sees.
If that picture is not up to par because it's blurry, too small, too dark, surrounded by distractions or in any other way unacceptable, he will not spend any more time on the page or even click through to your product page.
Of course you've heard the expression "An Image Is Worth More Than 1000 Words". It's even more true on the internet.
Because on the internet you are selling images.
The user cannot touch the product, pick it up, try it on, turn it around or look at it from another angle.
You, the e-tailer, have to compensate the user for the lack of this experience by creating the best visual product presentation possible.
Your Images Determine How People See You
Great images make you look trustworthy and legitimate. Great images show that you take pride in your product presentation.
Just think about what influences your own buying decisions when shopping.
Who are you more likely to buy from – an e-commerce store with stunning images and great overall presentation or a site with crummy, dark and blurry pictures?
Would you rather walk into a clean store with clean storefront windows or into a dirty, unmaintained shack?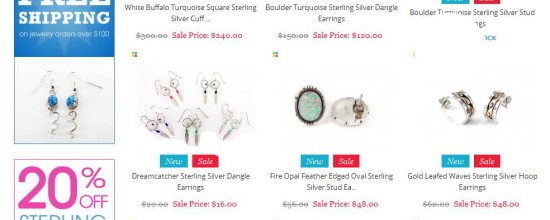 Image courtesy of Silver Post
Sourcing your images depends highly on the type of product you're selling:
– If you are a reseller for a manufacturer, the manufacturer most likely already has digital versions of the product images. Simply ask them for it (together with all the other required product information).
Images courtesy of Tour Edge Golf & Golf Bag Warehouse
– If you are the manufacturer (or if you sell custom made or hand made products) or are not a licensed reseller, creating the images will most likely be up to you.
"What?", the client says, "You want me to take all these images myself?"
Well, YES. Unless you plan to hire a professional product photographer.
Of course hiring a photographer to take hundreds or thousands of pictures is not always an option for a small business owner. Chances are, you (or someone who works for you) will be taking those pictures.
But before you pull our your iPhone and start snapping away – please, slow down.
Product photography (like any other specialty) is an art. It's a science. The equipment is expensive. And no, your iPhone won't do.
Do-It-Yourself Product Pictures
If you decide to take the pictures yourself, this decision will be vital to the day-to-day operation of your e-commerce store.
Invest in Decent Equipment
If you make deliveries, you need a reliable truck, if you are a contractor, you need a sizable selection of tools.
This is no different, and a $99 camera (or your cellphone camera) is not enough. You're not a tourist, and these are not vacation pictures.

Photo courtesy of Matt Kowal, flickr
– Get a Good Camera
Depending on the size of your products, you might want to look into cameras with extensive macro-mode features or an extra macro lens.
Seriously, no iPhones.
– Background
A Tabletop Background or a Lightbox is a must.
I actually prefer the seamless tabletop backgrounds, as they make product placement and adjustments to both product positioning and lighting a lot easier than the confined spaces of an enclosed lightbox or a tent.
In most cases the "all-white-seamless background" is the best option.
Working with other (colored or textured) backgrounds requires a lot of practice, experience, and even more time to stage and set up.
Both are images of the same product. Courtesy of Silver Post
TIP: Corners and crevices are product photography's worst enemies.
– Lighting
At least 2 professional lamps, together with adjustable stands and (umbrella) reflectors. If you want to step it up, look into buying studio strobes.
Bad lighting (and resulting shadows) is the bad background's evil twin.
Both are images of the same product. Courtesy of Silver Post
– Products
Your products need to be clean, free of fingerprints, lint, dust or anything else that should not be on the product. Clean them with a lint-free cloth and wear gloves while handling them.
TIP: Take shots showing your product from different angles. Left, right, top, bottom. Take close-ups of important details. Whatever is of importance to the user.
– Remove Distractions
Both are images of the same product. Courtesy of Silver Post
You want to showcase your product, and your product only. Remove anything and everything that is not supposed to be in the picture.
TIP: Leave the use of artsy props (and backgrounds) to the professionals.
Images courtesy of Goldschmiede Stoll, Binz, by TEXTAG Internet & Werbeagentur
– Dimensions / Scale
Give users an idea of how big/long/wide/thick your product is by comparing it to well-know items.
Examples:
– Show your product next to a quarter to show your product's size comparison.*
* Probably not the best option when you're selling truck parts. But you get the point.
– Position your product next to a pencil when thickness (or thin-ness) is a selling point (something Samsung has done in their Galaxy Tab vs. Ipad Air ads).
– Software

Even professional photographers who use thousands of dollars worth of equipment use Photoshop to edit the pictures. You don't get around it, period.
And for those who say "I cannot afford Photohsop": You better find a way. Because you can not afford to not use it.
Plus, Adobe has a great offer for Photoshop (and Lightroom) CC for only $9.99 a month.
Search

Latest Articles

Jul 17, 2021

Apr 15, 2020

Mar 6, 2020

More From Our Blog