Chef Kas / Discover Awesome / Custom Cuisine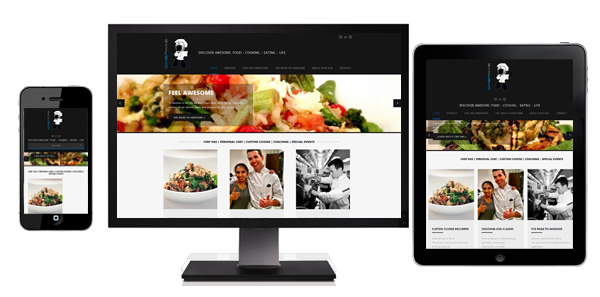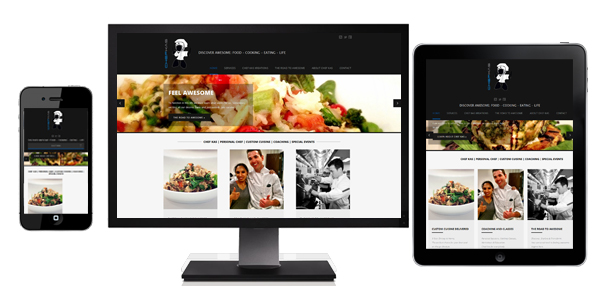 Over 300 high-res images, recipes, videos & a blog to empower people to discover their inner awesomeness through healthier eating.
Chef Kas holds workshops, hosts cooking classes & is a speaker at events. He also works as a Private Chef & Caterer for special events in Las Vegas, is an entrepreneur and owns "Custom Cuisine Delivered" – a meal delivery company.
Custom Responsive WordPress Design
For chefkas.com is we used a very sleek and modern design to highlight the colors and the variety of his creations. We created a highly optimized, responsive website which displays flawlessly on all mobile devices, from iphone and ipad to all android smartphones and tablets, while retaining its character and unique features – for a true mobile experience.
For the creations we implemented an unlimited scrolling effect seen on sites like facebook or Twitter: by displaying the images in a "Pinterest"-style fashion and therefore allowing the user to load more items without ever having to leave the page.
• Responsive WordPress Design
• Infinite Scrolling
• Facebook Integration for WordPress
• Custom Forms
• Performance Optimization
• Favicon
• Google Analytics
• XML Sitemap
• Facebook Page
• Twitter Page

About Chef Kas Adam Kaswiner:
ChefKas cooks "Food for Awesomeness", because healthy is boring.
ChefKas holds multiple degrees, with both a Bachelors in Biology with a focus in Nutrition and Exercise Science from Emory University, and a degree in Culinary Arts from the prestigious Culinary Institute of America in New York.