TEXTAG Internet & WerbeAgentur – Germany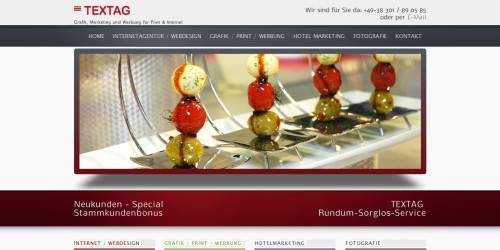 Custom WordPress Website: Intelligent – Custom WordPress Design (Photoshop)
AddOns/Extras: Favicon, Google Analytics, XML Sitemap, Custom Shortcodes, KenBurns Slider, Custom Forms, Performance Optimization
About:
Webdesign Rügen: TEXTAG Full-Service-Werbeagentur und Webagentur auf Rügen (Mecklenburg-Vorpommern) « Putbus, Rügen, Mecklenburg Vorpommern
TEXTAG – eine klassische Full-Service-Werbeagentur – hat sich auf Klein- und Mittelbetriebe (KMUs) spezialisiert und realisiert seit 1998 Projekte im Bereich Webdesign & Homepage Erstellung, Programmierung, Suchmaschinenoptimierung, Layout, Grafik & Design, Werbung & Marketing, Hotel Marketing und Online Marketing. Von der Entwicklung kostengünstiger Marketingstrategien, über die Herstellung sämtlicher Werbemittel, bis hin zur Umsetzung und zum Controlling ganzer Kampagnen dürfen Sie mit uns rechnen.
TEXTAG is a full service Advertising & Internet Agency in Rügen (Mecklenburg-Vorpommern), Germany.
TEXTAG specializes in servicing small and medium-sized business and since 1998 has served countless clients all across Europe.
TEXTAG Services include internet projects from concept to implementation, search engine optimization, layout, graphics and design, advertising and marketing as well as creation of high-end printed callateral like brochures, flyers and other corporate materials.