Create a Cool Twitter Collage with our Template
I've been seeing the Twitter collage update for the past few days but just gained the ability to post multiple photos to a Twitter post today.
After reading How to Make a Twitter Collage by Lance Ulanoff, I got to thinking about making yet another template.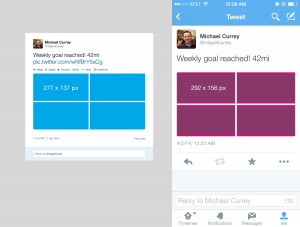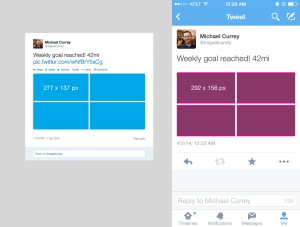 The issue I ran into when trying to be pixel perfect is that the dimensions of the four images are different on the desktop vs the iOS Twitter app.
As you can see in the side by side comparison, the mobile collage images are slightly taller than they are on the desktop. The bright pink areas are the parts of the images that will be cropped on the desktop.
I also ran into what I'm hoping is a glitch. On my first test run everything looked great on my phone but no so great on the desktop. The second image is off by quite a bit. My second test looked better, even though I hadn't changed anything.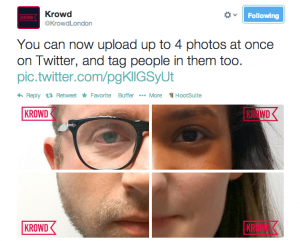 Here's a creative use of the new Twitter collage functionality from @KrowdLondon.
The options seem limitless, I'm sure we'll start seeing more and more of these multi photo posts in the weeks ahead.
Hope you like the template.
As always, leave your feedback in the comments.
Download The Templates – PSD & PNG
Simply enter your email address and the download link will be sent directly to your Inbox (we can only send you the download link if you enter a valid email address).
NOTE: We're currently having issues sending emails to *.icloud.com and *.me.com addresses (or pretty much any MAC-related domain). Please use an alternate email address until we get this figured out.
Search

Latest Articles

Jul 17, 2021

Apr 15, 2020

Mar 6, 2020

More From Our Blog