How To Fail At Live Support Chat
Recently, I signed up for the US Post Office's USPS Informed Delivery®* .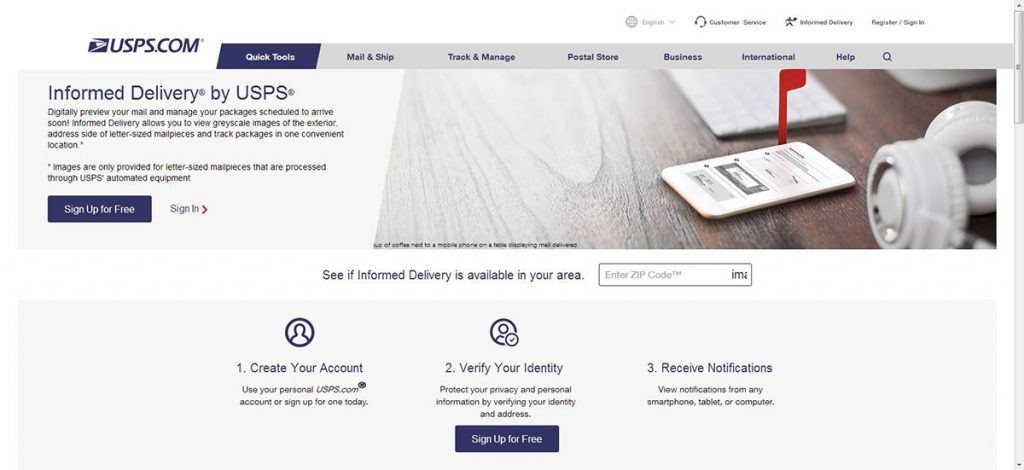 * If you haven't heard about it yet – when you sign up USPS sends you notifications (via email and/or text message) about packages and other mail pieces soon-to-be-delivered to your address.

With the Holidays just around the corner and online ordering peaking during this season, I find it a very helpful tool, updating me on upcoming deliveries (because sometimes you don't even know something is about to arrive).
In this case, I had received a couple of updates already notifying me of an upcoming delivery of a package from a friend.

And then, Tuesday morning, before 8 am (!), I receive a text message saying the package was delivered and left on the porch by the front door. Really? You mean, right now?
Well, that's strange.
Mind you, it's 7:50 in the morning.
I am at home (= delivery address).
Nobody rang the doorbell.
Nobody even walked up to our door (We have video cameras, we would have received a notification).
But of course I want to bring the package inside; and maybe our video system is experiencing a glitch, or maybe they left it further down the courtyard where the front door camera didn't quite catch them (I do understand the delivery drivers are busy little elves this time of the year).
Well… you know where this is going, right? Right.
No package on the porch. Not in the courtyard, not behind, next to, or in between the bushes either.
Well, OK, they're really busy and have tons of packages to deliver, right? Maybe they misread the street number, and it's on one of neighbors' porches. No big deal, I don't live in a rural area where my next door neighbor is a mile away, right?
Uhm… well… nope. Not there either.
Well, isn't that lovely.
Not even 8 o'clock, and now I have to deal with a missing package. And I don't even know what was in there (as stated, it was from a friend and supposed to be a Christmas present).
As I'm trying to find the support phone # for USPS on their website to report a missing package, a "can we help you" support chat box pops up at the bottom of the screen.
I am generally not a fan of those, as my past experiences using live support chats are mixed at best.
I decide to give it a shot, and here's how it went down (identifying information edited as well as typos):
Note: Before you connect to the chat, you are already asked to describe your problem (which I did). Very rarely is the responding agent's message already related to the initial problem (Great exception: amazon.com!)
Live Assistance
Chat
Status: Disconnected
USPS Agent G****:
Hi, my name is G*****. Thank you for using USPS.com, what can I help you with today?
me:
I just received text message that a package was delivered, but it wasn't
me:
it's not here, not on my neighbors' porch either
me:
Tracking # 9xxxxxxxxxxxxxxxxxxxxxxxxxxxxx
me:
Nobody even approached our front door, as we have video cameras
USPS Agent G****:
Once a Package Pickup is scheduled it is then administered from your local Post Office™, please contact them and they will be able to further assist you.
If you would like the contact information for your local Post Office, please visit www.usps.com and click "Quick Tools > Find
USPS Locations". You will be prompted to enter your address and/or ZIP Code™.
If you have any additional questions or concerns, please contact us again.
me: ????
me: it's pretty obvious nobody is neither listening NOR reading
USPS Agent G****: Please contact local post office and they will be able to further assist you.
USPS Agent G****: Thank you for visiting USPS.com, we appreciate your business and hope you come back soon.
USPS Agent G**** has disconnected.
Powered By Oracle
*Sigh* That went well.
Defeated, I pick up the phone and call their support phone number. A friendly computer voice informs me that my wait time is going to be an estimated 1 hour and 39 minutes. No problem. I have nothing else to do on a Tuesday morning.
With my phone on speaker on my desk next to me I go about my business; when suddenly – some 20 minutes into my wait – my neighbor from 3 houses down brings over a package.
The package.
She found it on her porch as she was leaving for work.
The Moral of The Story?
•Don't put a "live support chat" button on your website unless you are in fact dedicated and equipped to provide live support.
• Scripted or canned responses that have nothing to do with the customer's issue are never and in no way beneficial to your business.
•Live support is a commitment and so much more than a button on your website linked to some outsourced overseas call center.
• Our neighbors are the best!
Search

Latest Articles

Jul 17, 2021

Apr 15, 2020

Mar 6, 2020

More From Our Blog