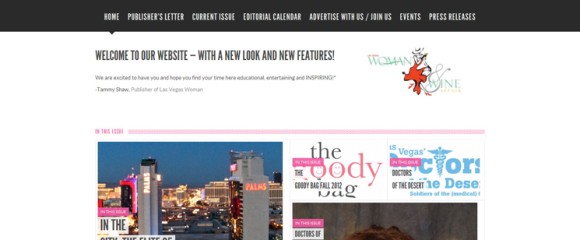 A very unique, responsive magazine design for Las Vegas Woman Magazine.
Responsive WordPress Design, Facebook Integration for WordPress, Event Calendar, Custom Forms, Facebook Page, Twitter Page, Performance Optimization, Social Media Management, XML Sitemaps, Google Analytics
About Las Vegas Woman Magazine
From careers to events to finances to love, Las Vegas Woman magazine covers the topics that are important to women of all ages. From the flirty 30s to the sassy 60s, Las Vegas Woman magazine provides insight on the issues that matter, entertain and inform.
Mission: Providing the women of Las Vegas with a positive resource to find information that is relevant to their lives and important to their hearts. We focus on women supporting women and giving them a creative outlet for celebrating their successes.
Las Vegas Woman, the only magazine for women, by women.