PSD Template for the new Twitter Profile Banner Image
Good things happen when you're sleeping!
New Header Image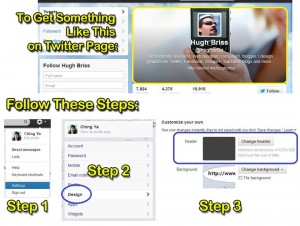 After seeing the news about the new Twitter design just announced today (9/18/2012) I have gone and created a template for the new banner using Hugh Briss's profile as a reference.
If you're wondering how to get the new banner on your profile, Ching Ya has created a quick visual guide for you.
Some lucky people have already gotten switched over… I'm still waiting. :(
Header Template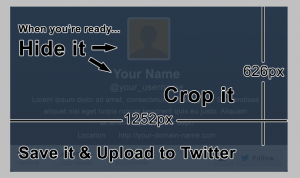 I will be testing this template out as soon as we get the opportunity to switch over to the new Twitter design. If you download my template and have any problems at all please email or call me so I can modify my template! It's the one reason I ask for an email address, just in case the template gets updated I can send you the new one right away.
Note: Your email will NOT be added to a list for marketing purposes. Hopefully, you won't ever get an email from us. ;)
Update: After reading this article from Entrepreneur Magazine I made modifications to the template so that it now measures 1252px wide by 626px high.

Looking for a template that includes the background? Check out our NEW Twitter template!
Download v3.0 of The Twitter Header Template Now!
Simply enter your email address and the download link will be sent directly to your Inbox (we can only send you the download link if you enter a valid email address).
NOTE: We're currently having issues sending emails to *.icloud.com and *.me.com addresses (or pretty much any MAC-related domain). Please use an alternate email address until we get this figured out.
Search

Latest Articles

Jul 17, 2021

Apr 15, 2020

Mar 6, 2020

More From Our Blog