Twitter Analytics And Detailed Tweet Activity Dashboard Now Available To Everyone
The best news this past week came from Twitter:
Twitter's Tweet Activity Analytics Dashboard which previously was only available to Twitter advertisers, is now available to everyone!
Unless you were an advertiser, you had to rely on third-party tools to analyze your tweets' reach, click-throughs and other engagements.
But on Thursday, July 10 2014, Twitter's Analytics Product Manager Buster Benson reported on Twitter's Media blog "Their Tweet activity dashboard offers richer analytics":
"We're giving the Tweet activity dashboard a refresh today, with richer data to give you more detailed insights into how your Tweets are performing."
To access the dashboard for your Twitter account, simply click here:
https://analytics.twitter.com/
I'm not the biggest and most active tweeter out there, and I don't follow everything and everybody for the mere purpose of aggregating followers, and I don't have the time to check Twitter all day long.
Hence the new analytics are even more interesting to the "Marketing Me" – as this is my personal Twitter account (and not our business account).

The dashboard lists your most recent tweets (for the past 28 days), together with Impressions, Engagement and Engagement Rate.
Tweet Statistics

Clicking on an individual tweet then brings up even more detailed information, from Hashtag Click-Throughs, Profile Clicks, Link Clicks and -among many others – how many followers you got as a result of this particular tweet.
Tweet Statistics Details
Original Tweet
Watching #TheProfit with @marcuslemonis on @CNBCPrimeTV. Can't believe I've never seen the popcorn company episode! pic.twitter.com/DEUSAc8byE

— Nina Khoury (@ninanet) July 8, 2014
Tweet Statistics Details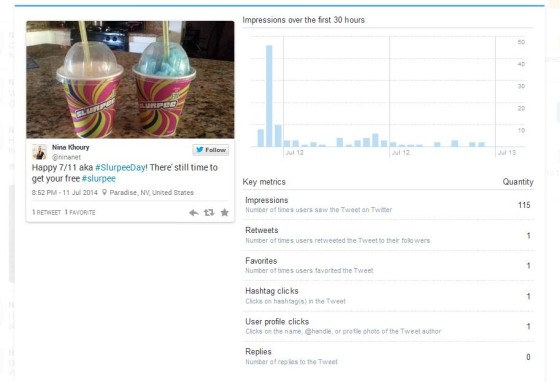 Original Tweet
Happy 7/11 aka #SlurpeeDay! There' still time to get your free #slurpee pic.twitter.com/eoaNf3lzHS

— Nina Khoury (@ninanet) July 12, 2014
A Tweet Is More Than Just A Tweet
In case you didn't already know it – there's always more to everything – especially in marketing.
Up until now, most users, agencies and clients were "measuring" Twitter success in follower count, retweets and favorites. With the availability of this beautiful new data, this might change; As you can now clearly see the different kinds of "engagements" – courtesy of Twitter.
Search

Latest Articles

Jul 17, 2021

Apr 15, 2020

Mar 6, 2020

More From Our Blog