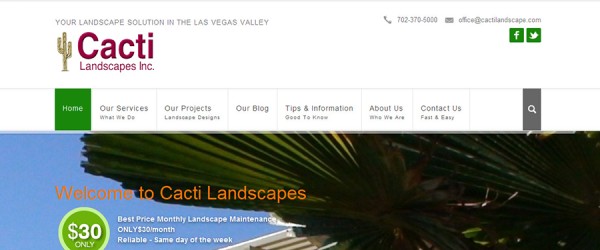 Custom Responsive Website for Cacti Landscapes Inc / Cacti Grounds Management LLC (Las Vegas)
The purpose of the redesign of cactilandscape.com was to elevate the "dated" look of the original website and to bring it into the mobile millennium.
We created a modern and polished look, focusing on showcasing the wide array of possibilities in Landscape Design by importing previous projects Cacti Landscapes has completed over the years for their clients in Las Vegas.
• Responsive WordPress Design
• Custom Post Types, Custom Forms, Custom Widgets, Custom Shortcodes
• SEO Package & Full Social Media Integration
• Performance Optimization
• Testimonials Slider
• Google Analytics
• Conversion Goals Setup
• XML Sitemap

The "original" version included a variety of Flash elements, making those parts inaccessible to iPhone or iPad users. It also suffered from poor and misleading labeling and navigation, creating a poor experience for the website visitors.
The new site gives homeowners who are looking to redesign their landscape an overview of Cacti Landscape's capabilities – from simple turf conversions to high-end projects and serves as a resource for new Las Vegas residents by providing tips on landscape maintenance, yard maintenance, planting, local climate, as well as laws and regulations.
We added interactive features like dynamic grids, infinite scrolling & integrated forms to enhance the user experience and the usability.
The included responsiveness allows everybody to access all custom features on any and all mobile devices, from iphone and ipad to all android smartphones and tablets – for a true mobile experience.
About Cacti Landscaping:
Cacti Landscapes Inc. has been serving the Las Vegas Area since 2002.
Owner Bret Utter started this business because he noticed a serious lack of proper service within the landscaping industry in Las Vegas. Since then, Cacti Landscapes Inc. has grown from 2 employees and 1 truck to over 10 employees and 4 trucks.