CES 2015 – Nina's Favorite Products
CES 2015 is in the bag, and all of the 3,500+ exhibitors from around the globe have returned to their home bases; and without a doubt many of them are already planning for next year's gadget showdown.
I've been walking the seemingly endless aisles of CES here in Las Vegas for almost 10 years; before, during and after the economic crisis, and while I am marveling at the razor-thin, curved 4K OLED TVs just like the next guy, my main reason for attending is not to take a selfie with a tricked out luxury car, but to find the smaller vendors and their sometimes fantastic products and innovations who usually don't get the recognition they deserve (if at all).
And here are my personal favorites (for a variety of reasons) from this year's show floor:
unnecto Air Collection Unlocked Smartphones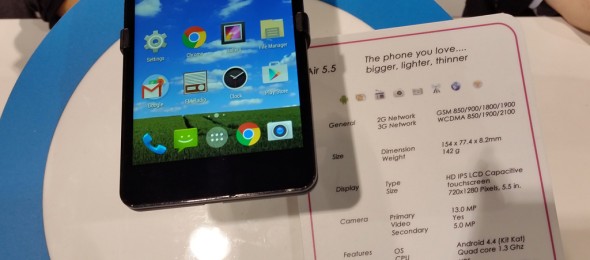 Unlocked Android (4.4/KitKat) based smartphones, with screen sizes ranging from 4.5 to 5.5 (!) inches, without any provider restrictions or pre-installed bloatware and therefore globally operational.
While an unlocked Samsung Galaxy Note 4 will set you back at least $690, and an unlocked iPhone 6 Plus will cost you $750 and up, unnecto's Air Collection Air 5.5, coming in at a fraction of those prices, is a serious contender in the "Phablet" world.


Detailed specs & where to get yours here: http://unnecto.com/english/products/air-collection/air-5-5/
The Silent Pocket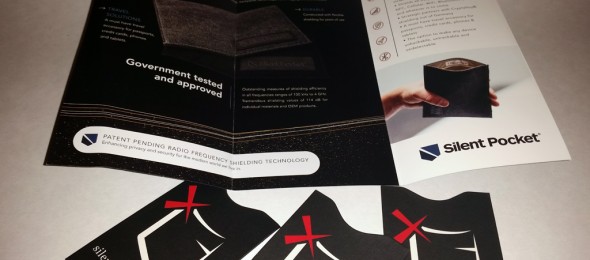 Ever wished you could simply go "off the grid"? Become digitally invisible instantaneously? Without having to worry that someone (including Google) still knows exactly where you are?
Silent Pocket allows you to do just that. Simply dump your smartphone, your tablet, or any other device that is constantly sending signals to God-knows-where and God-knows-who into the specially lined pouch and your digital marker disappears. Their shielding technology makes any devices undetectable, immediately.
Silent Pocket also offers a variety of other products, including wallets and RFID/NFC protective sleeves for credit cards.
See their whole product line & order yours here: http://silent-pocket.com/
Miragii Ceramic Smart Pendant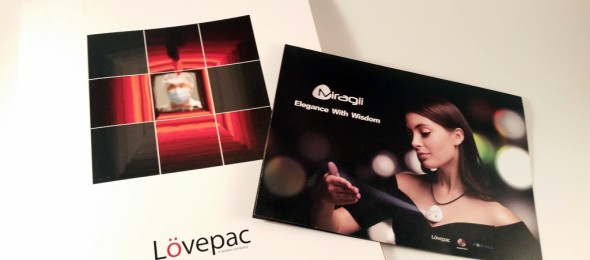 One of the more unusual, but no less innovative products: An extremely high-end looking pendant, made 100% of Zirconia Ceramics, with integrated Bluetooth-Headset.
But wait, there's more! It vibrates on incoming calls, allows you to reject calls with a simple gesture and displays caller information and text messages pro projecting them into the palm of your hand, all without having to dig your phone out of your purse.
Certainly a different kind of "wearable" technology.
It's waterproof, so you can wear it while playing in the pool and still won't miss a single call or message; and since it's made from ceramic, you won't have to worry about a possible allergic reaction.
We saw the Miragii pendant in 3 colors (white, black & blue – all of which looked stunning); according to the manufacturer the pendant can be manufactured in any color (and shape).
Available for pre-order ($399) here: http://www.miragii.com/

Alugha – Multi-Language Videos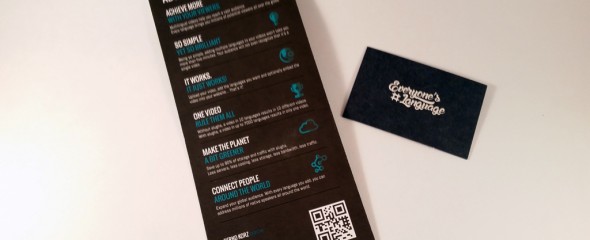 A patented software solution to create multi-language videos, coming to you from Germany.
Why has nobody else done this? Imagine the amount of bandwith and other resources you can save by integrating different languages into your video(s) instead of having to create, upload, maintain and analyze a different file for every language, for each video.
"Without alugha, a video in 10 languages results in 10 different videos. With alugha, a video in up to 7000 languages results in only one video." *
"Save up to 90% of storage and traffic with alugha. Less servers, less cooling, less storage, less bandwidth, less traffic. " *
* Source: Alugha website
Prices and more information here (They even have a free version!): https://alugha.com/
The Tower Of Power by IWOXS

At an event and out of battery? No power bank or spare battery, no charger or nowhere to plug in a charger?
Tower of power comes to the rescue – and is ready wherever consumers might need power.
Individual, detachable (magnetic) discs allow 2 devices to be connected and charged. Every disc can be branded with your logo and can be produced to match your company's colors. They can even become collectibles, if available only at one particular event (think sporting events, concerts, etc).
One base can power an almost unlimited amount of discs – the lights on the side of the discs turn blue when they're fully charged and ready.

More information and products here: http://www.iwoxs.com
SQUAIR Duralumin iPhone Covers

Japanese craftsmanship combined with yet another high-end material – Duralumin, a lightweight and super strong aluminum alloy – allows for the creation of spectacular looking iPhone covers in 3 exquisite designs.
With prices starting at $600 and clearly not aimed at the bargain shopper, these are not your everyday cases.
Whether as a gift for that special someone and/or the iPhone enthusiast looking for that classy, sophisticated WOW-factor rather than the bedazzled, blingy OW-factor: SQUAIR cellphone cases are sure to make an impact while preventing impact-related damage to your phone.
Available on amazon.com.
Currently only for iPhone 6 & 6 Plus, other cases available for iPhone 5/5s: http://www.squair.me/
Search

Latest Articles

Jul 17, 2021

Apr 15, 2020

Mar 6, 2020

More From Our Blog