The Nomad Lightning to USB Cable for Your iPhone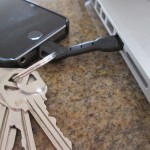 As this is my first product review, it's cool that I get to review a product that works for my iPhone. Yes, I'm an Apple nerd.
I've been using this "cable" since finding it at CES this year and I love it. It's come in handy a lot. I've even lent it to clients at meetings.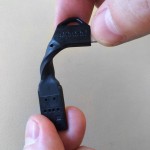 The USB plug and the loop you put your keyring through is hard plastic and the middle is rubber. This is a great feature, it would be a lot less cool if the entire thing was rigid.
The one thing I wish the ChargeKey had was a quick-release or spring latch like they have on carabiners, but only if it was durable.
It's a Lightning to USB cable for your keychain!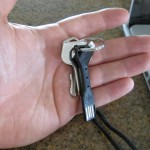 This is a Lightning to USB cable that's the same size as a key. It's barely noticeable. I think the only thing that would make it cooler is if it came in different colors, or if it could stretch… not sure that's possible though.
The case I'm using is fairly minimal so I have no problems plugging it into my phone. Maybe there's a case out there that's so bulky that the base would get in the way? The difference between an Apple Lightning cable and the ChargeKey is minimal.
I will admit that the ChargeKey is something I only use occasionally. When I'm at my desk I prefer a longer cable so I can move it around and answer the phone without unplugging it.
I did some checking on Amazon for Lightning to USB cables and the prices vary, from $10 to $19.
The Charge Key retails for $29, so it's not cheap, but it's unique and will probably outlast a regular cable. Plus, it fits in your pocket!
Interested? Visit the nomad site for details.
If you're not an iPhone user, there's a Micro USB option too.
So, how did I do? Are there things you wanted to know that I didn't cover? Let me know in the comments.
Search

Latest Articles

Jul 17, 2021

Apr 15, 2020

Mar 6, 2020

More From Our Blog