Review of the unnecto Air 5.5 Unlocked Android Phone
I'll admit that I'm an Apple/iPhone guy to the core but an unlocked Android smartphone caught my eye at this year's CES – the unnecto Air 5.5.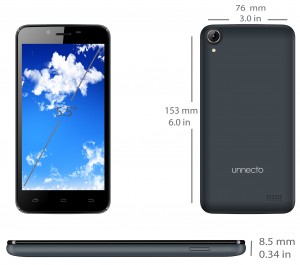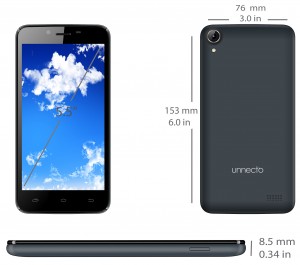 unnecto isn't a household brand but the phones on display looked just as good as any I have seen. Android is free too right? So what it comes down to is the hardware.
The specs can be found on the website but the Air 5.5 has a 1.3 Ghz quad core ARM processor that can run 1080p HD video and has a 13 megapixel camera on the back.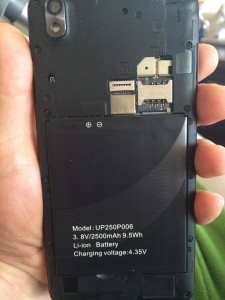 Unlike the new Samsung S6 phones, this one has a place for additional memory and a removable battery. The one thing I feel it's missing is NFC… not that it's widely used or supported but hey, some people might care.
Battery life was great. The 2500mAh battery is pretty big and I could go a couple of days before I had to recharge even with the screen at it's brightest.
Switching from iOS to Android was no fun though. I'm old and stuck in my ways. I'm not a fan of unlimited possibilities and endless options. The Air 5.5 comes with Android 4.4 KitKat without the bloatware that other smartphones come with.
Besides my struggles with learning a new operating system, the phone worked as you would think. I was able to download my favorite apps from the Google Play Store with no problem. The apps installed quickly too.
I do wish that my hands were bigger though. The 5.5 is quite large, much bigger than my iPhone 5s. I know bigger is supposed to be better but a lot of times I had to use two hands to do things where I can do everything on my iPhone with one hand. The size was great, don't get me wrong, but I felt like my iPad could get smaller and still be cool and not that my phone should get bigger.
I may be an exception though. I have excellent eyesight (20/10) and have no problem reading or seeing things on my tiny 5s. If I were going to ditch my current phone for a new, unlocked Android phone, I would probably go with unnecto's 4.5 or 5.0.
The unlocked option is what really got my attention. My two year contract with AT&T won't allow me a cheap upgrade until next year and I'm not gonna pay for an unsubsidized iPhone any time soon.
At $109.99 for the 4.5 on Amazon, how can you go wrong? Want the bigger 5.5? It's just $169.99.
Now I have to talk about the camera… one of the main uses for a phone right?
The Air 5.5 has a rear facing 13 MP camera and a front facing 5 MP camera so there are plenty of pixels to work with.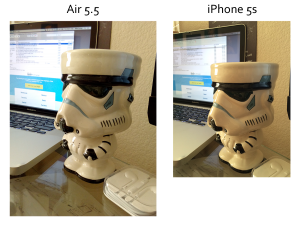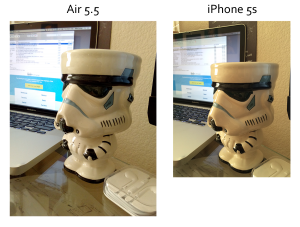 I took pictures wherever I went. The the bar, a business expo, friends houses… overall, the pictures were not bad. I had to get used to the camera app on Android but I eventually figured it out.
Photos were coming out great at first, when I was taking pictures during the day. If you look at the photo of my Stormtrooper mug, you'll see that the photo taken by the Air is better than the one from my iPhone.
Image quality dropped though in low light or night time situations when I didn't use the flash. Lesson, use the flash.
Not using the flash gets you a very grainy picture unlike the picture from the iPhone. Maybe it's the $500 difference in price? At this point having the extra megapixels doesn't really matter.
Here's a comparison between the two phones both using the flash.
I'm not a photographer and don't use my phone to take professional photos but it's up to you to decide what's most important when looking for a new smartphone.
Overall I was impressed with the phone. It has a nice, bright screen; long battery life and fast processor. The camera works well but obviously isn't the best out there. If my phone broke tomorrow and I needed a new one, I would definitely get one of these phones.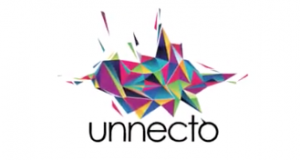 Interested in learning more? Visit the unnecto website for the details and links to where you can buy.
Search

Latest Articles

Jul 17, 2021

Apr 15, 2020

Mar 6, 2020

More From Our Blog