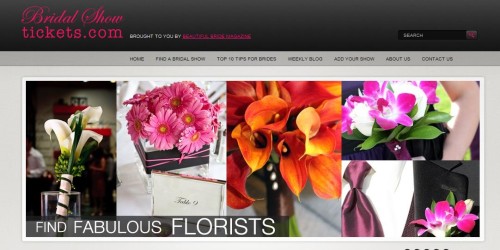 Custom WordPress Website – Design: Grande
AddOns/Extras: Custom Design incorporating an interactive map of the United States to easily select a state. Option for show producers to add shows (registration required), automatic creation of Google Map of show detail page, Favicon, Google Analytics, XML Sitemap, Performance Optimization
Details:
Bridal Show Tickets is brought to you by Beautiful Bride Magazine.
For Brides: We've created our site as a comprehensive way to search for bridal shows near you. Bridal show producers list pertinent information on attending their shows, and a means to purchase tickets, if necessary. Have fun attending bridal shows!

For Bridal Show Producers: Currently our website offers bridal show producers an opportunity to add their show to our site, for free. This will serve as a portal for brides to easily locate bridal expos within their city, a service that has yet to be easily done.