Smile Designers of Las Vegas – Dr. Michael Duboff, DMD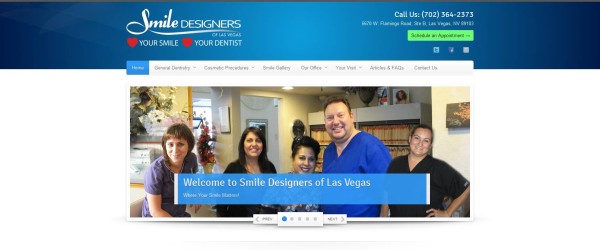 Custom Responsive Website for Smile Designers of Las Vegas (Dr. Michael Duboff, DMD, Las Vegas)
For the redesign of Dr. Michael Duboff's website we created a very modern and clean looking design to allow the visitors to focus on the medical and aesthetic advantages of becoming a patient of Dr. Michael Duboff.
We designed a highly optimized, responsive website, allowing everybody to access all custom features on any and all mobile devices, from iphone and ipad to all android smartphones and tablets – for a true mobile experience.
• Responsive WordPress Design
• Logo Design
• Custom Forms
• Custom Widgets
• Custom Shortcodes
• SEO Package
• Performance Optimization
• Google Analytics
• XML Sitemap
• Testimonials

The "original" version was a Flash page, which made the complete website virtually invisible to Search Engines, hence making it impossible for potential patients to find Dr. Duboff and his practice on the web. The content was full of grammatical errors, and the lack of interactive elements and compelling content made it a very poor experience.
We focused on highlighting Dr. Duboff's outstanding capabilities as a cosmetic dentist by implementing a "Before and After Smile Gallery", showcasing real patients and real results.
From simple in-office teeth whitenings to amazing full Smile Makeovers, pictures always say more than a 1000 words.
We digitized the new patient intake forms, making them downloadable, interactive and fillable.
We added an "Ask the Doctor" feature – allowing everybody to submit their questions directly to Dr. Duboff (and getting answers).
About Smile Designers of Las Vegas & Dr. Michael Duboff, DMD:
Healthy and white teeth are a big part of your overall appearance.
At Smile Designers of Las Vegas, our passion is Cosmetic Dentistry to provide you with the best Porcelain Bridges, Porcelain Crowns, Porcelain Veneers, Teeth Whitening and complete Smile Makeovers.
From 2007, when he acquired "Smile Designers of Las Vegas", until 2017, Dr. Michael Duboff was welcoming patients in his own practice, where his unique attention to detail and the precision of an artist impressed patients of all ages.