Landhotel Ulmenhof, Restaurant Vilmnitzer Stuben & Vacation Apartments Haus Kranich, Vilmnitz (Putbus) Rügen (Germany)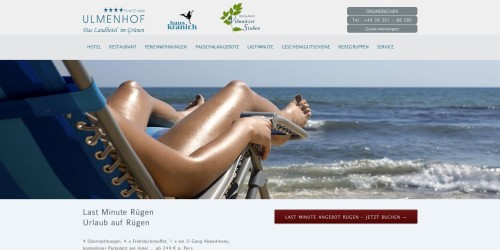 WordPress Website According to Photoshop Design & Layout
AddOns/Extras: Custom Widgets, Thumbnails Anywhere Plugin, Full-Size Slider and Thumbnail Gallery with Slider, Favicon, Google Analytics, XML Sitemap, SEO Package, Custom Shortcodes, Custom Forms, Performance Optimization, Dynamic Customer Testimonials with Rotator, German Translation
About (German):
Das Landhotel Ulmenhof liegt idyllisch in mitten des kleinen Dorfes Vilmnitz, einem Ortsteil der Residenzstadt Putbus auf Rügen, an der Deutschen Alleenstraße mitten im Biosphärenreservat Süd-Ost Rügen, unmittelbar neben der imposanten Kirche aus dem 13. Jahrhundert, einer der ältesten auf Rügen und nur knapp 30 km entfernt von der Hansestadt Stralsund.
About (English):
The Landhotel Ulmenhof is located idyllically in the middle of the small village of Vilmnitz, a part of Putbus on Rügen, on the Deutschen Alleenstraße in the Biosphere Reserve in South East Rügen, adjacent to a magnificent church from the 13th Century, one of the oldest on Rügenand only 30 km from the Hanseatic city of Stralsund.
Search

Recent Client Projects

Get Social & Follow Us!