Rösing Touristik GmbH, Germany: Hotel Belvedere, Appartement Haus Salve – Ostseebad Binz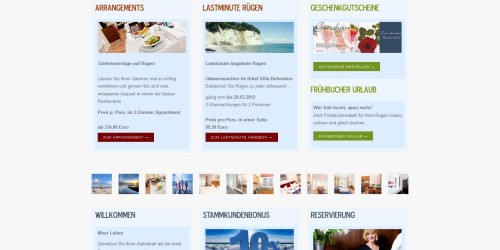 Custom WordPress Website: Lacquer – Modifcations According to Photoshop Design & Layout
AddOns/Extras: Custom Widgets, Favicon, Google Analytics, XML Sitemap, SEO Package, Custom Shortcodes, KenBurns Slider, Custom Forms, Performance Optimization, German Translation
About (German):
Die Rösing Touristik GmbH besteht seit 2002.
Das Rösing Touristik Team erwartet Sie im Ostseebad Binz in der Hotel-Villa Belvedere und im Appartementhaus Salve sowie im Aparthotel Königslinie in Mukran nahe Sassnitz.
Das Ostseebad Binz ist das größte Seebad der Insel Rügen und liegt in weitläufigen Waldgebieten der Schmalen Heide und im Süden von der Granitz. Im Westen schmiegt sich Binz an den Schmachter See an und im Osten wartet die Prorer Wieck mit dem breiten, weißen Sandstrand.
Der Ort Neu Mukran, das Tor nach Skandinavien und zum Baltikum, liegt auf der Halbinsel Jasmund zwischen Sassnitz und dem Ostseebad Binz. Vom kleinen Küstendorf hat es sich zu einem bekannten Hafenstandort für Fährlinien und Kreuzfahrtschiffe entwickelt.
About (English):
The Rösing Touristik Corporation was founded in 2002.
The Rösing Touristik team welcomes you in Binz at the Hotel Villa Belvedere and at the Apartment House Salve as well as at the Aparthotel Königslinie in Mukran near Sassnitz.
The Baltic seaside resort Binz is the largest seaside resort on the island of Rügen and is located to the south of The Granitz, surrounded by the extensive wooded areas of The Schmale Heide. West of Binz lies The Schmachter Lake and to the East The Prorer Wieck welcomes you with its wide and sandy beaches.
The village Neu Mukran, dubbed "The Gateway to Scandinavia and the Baltic States", is located on the peninsula Jasmund between Sassnitz and Binz. Once a small coastal village, it has become a popular location for ferries and cruise ships.