Danielle Bellini, Sideline Reporter for EA Sports' Madden NFL 25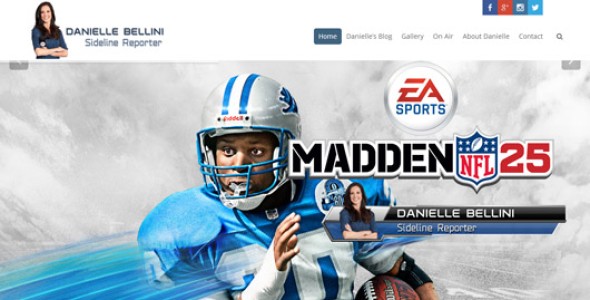 Responsive Landing Page, Website, Facebook Page, Twitter Background and Google+ Cover Image for Danielle Bellini, Sideline Reporter for Madden NFL 25 (New York City)
We created daniellebellini.com to give this young, energetic, Emmy-award winning TV host a great presence to highlight her new career as "Sideline Reporter" in EA Sports' video game Madden NFL 25.
The Landing Page was showing a countdown to the launch of her website which was timed to be in sync with the release of the retail version of the anniversary edition of Madden NFL 25 at Midnight on Aug 27th 2013.
• Responsive Landing Page
• Responsive WordPress Design
• SEO Package & Full Social Media Integration
• Performance Optimization
• Google Analytics
• XML Sitemap
• Facebook Page
• Twitter Background
• Google+ Cover
• Custom Twitter App/Widget
• fontello Social Media Icons

About Danielle Bellini, Sideline Reporter:
From the field, she reports on everything from injuries to accolades. Working on the game, Dani loved every minute. Bringing the energy and emotion of the NFL to her reports, she helped make the game feel more real than ever before. She is honored to be part of the legendary franchise and is proud to be a part of history.
Visit Website: http://daniellebellini.com
Danielle on Facebook: https://www.facebook.com/BelliniDanielle
Danielle on Twitter: http://twitter.com/daniellebellini
Danielle on Google+: http://gplus.to/daniellebellini
Danielle on Instagram: http://instagram.com/DanielleBelliniPics
All brand names and trademarks are the property of their respective owners. Artwork, Logos & Brand Names used with permission. Unauthorized use or duplication stricly prohbited.
Please refer to EA Sports Legal Notices for more information.
Twitter